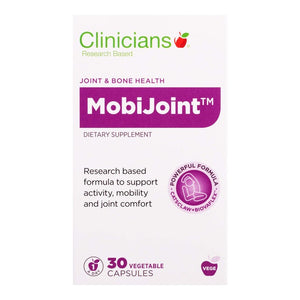 Clinicians MobiJoint is a one-a-day product to support those who regularly need support for joint comfort, mobility and stiffness. It is made from egg shell membrane and uses patented Hydro5™ technology to keep the maximum number of joint actives such as collagen, elastin and glucosamine, chondroitin and hyaluronic acid, that are used by the body to support joint health. This is combined with the herb Cat's Claw, which has been traditionally used to support joint comfort and mobility.
Ingredients
Each vegetable capsule contains:
BiovaFlex™ Eggshell membrane 500mg Standardised to:
Elastin 100mg
Collagen 75mg
Total Glycosaminoglycans 25mg
Cat's Claw
 (uncaria tomentosa
) bark ext. 100mg
Also contains:
 Magnesium stearate, silicon dioxide and microcrystalline cellulose.
Directions
Adults: 
Take 1 capsule daily.
Precautions
Avoid with egg allergy,.
Avoid in pregnancy and breast-feeding.
Avoid with people who recently have had a bone marrow or organ transplant.
BiovaFlex™ is a trademark of Biova, LLC.