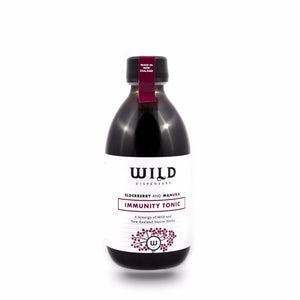 Elderberry and Manuka tonic - A synergy of wild and New Zealand Native herbs.  100% natural New Zealand made tonic.  Delicious tasting and suitable for adults and children.
For generations elderberries have been used to boost immunity and have been traditionally used for the treatment of colds and flus.
Recommended Dosage:
Adults- 10ml- max dose-10ml up to 5 x daily
Child (2-12 yrs) 5ml- max dose- 5ml up to 5 x daily
When unwell: Up to 5 x daily
Support vitality: 1 x daily.  Taken neat or in hot/cold water (dilute to taste up to 1:10)
This product is handmade and natural - please shake well before use.