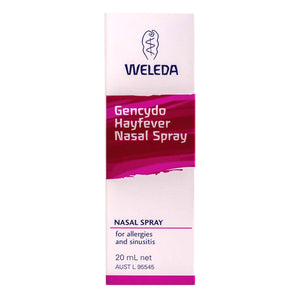 Weleda Gencydo Hayfever Nasal Spray

 is fast and effective relief from hayfever, allergies and sinusitis symptoms.
100% natural lemon and quince extracts reduce irritation and runny nose, strengthen mucous membranes to increase resistance to allergens.
Can be used during pregnancy and with other medication.
Each 1g contains:
Fresh Lemon (Citrus limon) fruit juice 8-12mg (stand. to fruit acids calculated as citric acid 0.65mg)
Extract equiv. fresh: Cydonia oblonga (Quince), fruit 10mg
In water for injections/ sodium chloride base.
Free from: Synthetic preservatives.
Adults: 
Apply 1-2 sprays into each nostril, 3-5 times daily.
Children who can sniff in, approx. 6 years:
 Apply 1 spray.
Best started, twice daily, 1-4 weeks before hay fever season. Or as directed by your healthcare professional. 
Insert the sprayer upright into the nostril, depress nozzle to spray. At the same time hold the other nostril closed and sniff in through the nose. Wipe nozzle after use.
Precautions
If symptoms persist, consult your healthcare professional.
Warnings: Contraindication: Sensitivity to citrus fruits.
Keep all medicines out of reach of children.
Store below 30° C.