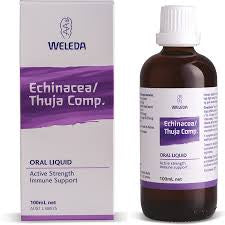 Weleda Echinacea Thuja Comp provides immune support to build resistance and help fight colds, flu, and other infections eg. poor wound healing.
Each 1g (approx. 15 drops) contains:
Tincture, equiv. fresh root juice: 
Echinacea purpurea 222mg
Homoeopathic ingredients (equal parts) 333mg: 
Apis 6x; Thuja 3x
Essential oils: 
Anise Oil 67mcg
Eucalyptus Oil 33mcg
Sage Oil 33mcg
In water/ethanol base.
Free from: Synthetic preservatives.
Directions
Children under 7 years: Take 5 drops
Children 7 to 14 years: Take 10 drops
Adults: Take 20 drops
Take in water 3 times daily at least 15 minutes before meals.
In acute cases take every two hours. Or as directed by your healthcare professional.
Precautions
If symptoms persist, consult your healthcare professional.
Temporary tongue tingling may be experienced due to beneficial active ingredients.
Warning: Consultation with a health practitioner is advised before giving medicine to children under 2 years.
Keep all medicines out of reach of children.
Store below 30°C.
Do not use in place of prescribed anti-virals or anti-infectives.