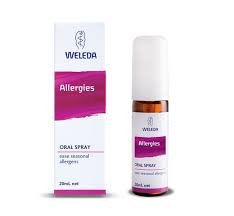 Weleda Allergies Oral Spray supports the body's response to seasonal allergens with its formulation of traditionally used natural homoeopathic herbal preparations.

Its mild homoeopathic formulation is non-drowsy and has no known side effects. Easy and convenient to use, speedy in effect, keep one in your pocket or handbag for relief that is just a few sprays away.
Suitable for adults and children 6 years and above. Suitable for vegans.
Contains equal parts of:
Allium cepa 6x
Euphrasia officinalis 6x
Gelsemium sempervirens 6x
In ethanol/water base.
Directions
Adults and Children over 12 years: Take 1 or 2 sprays.
Children 6 to 12 years: Take 1 spray.
Hold spray bottle upright, a few centimetres from the mouth. Open mouth and spray up to 3 times daily.
In acute cases, take every 2 hours. Or as directed by a healthcare professional.