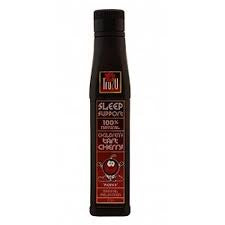 This is our New Zealand Original Sleep Support Tart Cherry, 100% Sweet Cherry Concentrate in single strength which is fantastic when you are wanting sleep support as well as other antioxidant properties. 
Convenient and effective - a One Month Supply for a child!
All the sleep benefits are the same as our original Sleep Support Sweet Cherry, you only need to have quarter of the amount.
INGREDIENTS
100% Sweet Cherry Concentrate
Contains naturally occurring plant phytomelatonin, tryptophan and procyanidins
BENEFITS
Naturally occurring plant phytomelatonin which support regular sleep patterns for a quality and restorative sleep
A natural source of potent antioxidants and anthocyanin antioxidants, which support the immune system 
Montmorency Tart Cherries offer support for:
          - relaxing into sleep
          - returning to sleep when woken
          - children who wake frequently
          - disrupted sleep patterns when travelling
          - healthy energy levels 
Sound sleep may help support mental focus
Support for sleep and healthy weight management       
FEATURES
100% natural
No added sugar
No artificial colours
No colouring agents
No preservatives
No dairy or nuts
Gluten free
Low Glycemic Index (GI - 54) suitable for many diabetics
Potent antioxidants for immune boost
Drip free pourer - no mess
HDPE Plastic - does not leach into juice or let light in for maximum protection
STORAGE
Keep refrigerated whenever possible
Do not heat
Consume within 2 months of opening
Freezing will extend shelf life to 12 months after opening
HOW TO USE:
Consume daily one hour before bedtime
Child serving 5 -15mls
Consult brochure for serving sizes
Dilute to taste
Do not heat
Concentrate is delicious poured over yoghurt