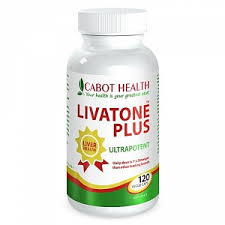 Dr Sandra Cabot's LivaTone Plus is a more potent formulation than the original LivaTone. Livatone Plus Capsules contain herbs that are traditionally used as a liver tonic to help maintain healthy digestive function. For sufferers of chronic metabolic problems and liver dysfunctions. From the renowned Dr. Sandra Cabot (international best selling author of The Liver Cleansing Diet).
Livatone Plus has the same benefits as Livatone Classic and in addition, because of its more extensive list of synergistic ingredients, can be beneficial for people with many types of liver damage. This high potency herbal and nutritional formula, is essential in promoting liver detoxification and health. It supports Phase One and Phase Two detoxification pathways ensuring optimum detoxification with reduced side effects.
LivaTone Plus contains St Mary's Thistle combined with sulphur bearing amino acids Taurine, Glycine, Cysteine and Glutamine. It also contains all the important B vitamins and lipotrophic co-factors such as inositol, Folic acid and Biotin. Also present are antioxidants such as Green Tea, vitamins A and C, and natural beta carotene, to reduce liver damage and inflammation. Lecithin and broccoli powder are included in the formulation to aid healthy liver function. Also contains Turmeric, an anti-inflammatory that has traditionally been used as a cholagogue (healthy bile promoter).
St. Mary's Thistle has been shown to exert a protective effect on the cells of the liver due to its antioxidant properties & essential fatty acids, which may contribute to its anti-inflammatory effect. St. Mary's Thistle contains the active constituent Silymarin, which is of benefit in helping the liver to recover from the toxic overload of everyday life & normalising serum liver enzymes (AST, ALT, GGT). Livatone Plus may enhance liver functions. Silymarin may increase the quality of the powerful liver protector Glutathione, & improves protein synthesis in the liver. May assist in maintaining healthy cholesterol levels & in the management of halitosis (bad breath). Livatone Plus helps rid the body of waste & promotes elimination via a cleansing effect on the bowel.
Each Capsule Provides:

Herbal Extracts equiv to dry:
Silybum marianum (St Mary's Thistle) fruit extract
 Equiv to Silybum marianum fruit 9.1875gm
 Equiv to Silymarin (flavanolignans) calculated as Silybin 105mg
Curcuma longa (turmeric) rhizome extract 375mg
Nutrients:
Thiamine hydrochloride (Vitamin B1) 2.5mg
Riboflavin (Vitamin B2) 2.5mg
Nicotinic acid (Vitamin B3) 2.5mg
Calcium pantothenate (Vitamin B5) 5mg
 Equiv to pantothenic acid 4.58mg
Pyridoxine hydrochloride (Vitamin B6) 2.5mg
 Equiv to pyridoxine 2.06mg
Cyanocobalamin (Vitamin B12) 25mcg
Calcium ascorbate 30.4mg
 Equiv Ascorbic acid 25mg
d-alpha tocopheryl acid succinate 20.7mg
 Equiv Vitamin E 25IU
Calcium Folinate 138.89mcg
 Equiv to Folinic acid 100mcg
Selenium (as selenomethionine) 37.5mcg
Taurine 100mg
Directions
Adults: Take 1-2 capsules twice daily, with or without food.
Children (8-12 years): Take 1 capsule twice daily.
Drink plenty of water.
Precautions
Keep out of reach of children and do not use during pregnancy without medical advice. 
Vitamin supplements should not replace a balanced diet. Drink plenty of water.
Always read the label. Use only as directed. If symptoms persist consult your healthcare practitioner.
If you are taking blood pressure medication, please consult your healthcare professional before taking Turmeric.
People with diagnosed diabetes should check with their doctor as blood sugar levels could be altered when using this product.