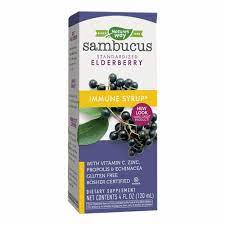 Nature's Way Sambucus Immune Formula is a special formulation of the award winning black elderberry extract developed by world-renowned virologist, Dr. Madeleine Mumcuoglu. This pleasant tasting syrup also contains echinacea, propolis, vitamin C and zinc.

All are well documented for their health promoting benefits. Sambucus is the world's best selling and most extensively researched black elderberry extract and is produced with a patented process which uniquely isolates the key active constituent of elderberries.

Sambucus Immune Formula supports your natural defences, and is especially popular during the winter season.

Usage: Immune support during winter ills and chills and niggly throats.
Each 10ml Serve Provides:
Vitamin C (ascorbic acid) 100 mg 167%
Zinc (as zinc gluconate) 10 mg 67%
Proprietary Blend - Echinacea angustifolia (root) and Echinacea purpurea (flower) liquid extract; Propolis 478mg
Black Elderberry (berry) Extract standardized to BioActives® from 6.4 g (6,400 mg) of premium cultivar elderberries 100mg
 
Other Ingredients:
 Fructose, Purified water, Vegetable-source glycerin, Natural raspberry flavor with other natural flavors, Citric acid
Contains No:
 artificial preservatives, gluten. 
Kosher Certified.
Directions
For daily maintenance; adults take 2 teaspoons daily.
For intensive use; adults take 2 teaspoons four times daily.
After taking for 6 to 8 weeks, a two week break is recommended before restarting use for best results.