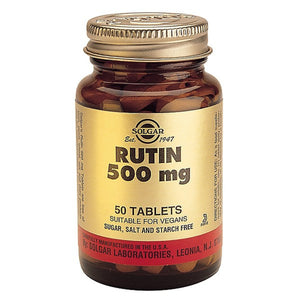 Solgar Rutin 

500mg
  Rutin is an important, non-citrus, antioxidant bioflavonoid. Bioflavonoids are a group of water-soluble plant pigments found naturally in many foods that helps Vitamin C absorption and utilization.  
Rutin is a powerful combatant of free radicals and is best known for its role in vascular health and supporting a healthy circulation. Rutin helps to maintain the structural integrity of blood vessels, such as veins and capillaries.    
Intended to provide nutritive support for normal, healthy capillaries.  Ideal for those that need extra support for eye capillaries, varicose veins, venous insufficiency or haemorrhoids.
Rutin 500mg



Also contains:

 Dicalcium phosphate, microcrystalline cellulose, stearic acid, magnesium stearate, silicon dioxide, cellulose gum, hydroxypropylmethyl cellulose, vegetable glycerin.
Directions
As a food supplement for adults, take one (1) tablet daily, preferably at mealtime, or as directed by a healthcare practitioner.
Precautions
Always read the label and use as directed. Vitamins are supplementary to a balanced diet. If symptoms persist consult your healthcare professional.