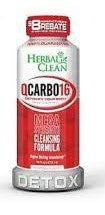 Herbal Clean QCarbo 16 is the easy way to cleanse for people with moderate to frequent toxin exposure or small to medium body mass. Same Day Cleanse.
This advanced detox solution provides the reliability you expect for your vital cleansing needs and improved lifestyle. 
Herbal Clean has been the trusted brand in detox for 30 years, providing effective products that help you live a healthy lifestyle and aid in your body's cleansing process.
Shake the bottle and drink the entire 473ml bottle of QCarbo16 over the course of 30 minutes to an hour. 
For your comfort, wait 15 minutes and drink an additional 473ml of water over the course of 30 minutes to an hour. 
Be sure to urinate frequently; this is part of the elimination process and important for a successful cleanse. 
Same day cleanse. 
When cleansing your system, it is important to drink at least 1.5L of water per day and avoid toxins including alcohol, caffeine, tobacco etc. 
Best when taken on an empty stomach. An empty stomach may help vitamins and minerals to pass through your digestive system more easily. However, if you have a sensitive stomach, you may like to eat something light (like toast or crackers). 
Not intended for daily use. Use this product no more than twice monthly.
Serving Size - 1 Bottle (473ml)
Calories - 240
Total Carbohydrates - 60gm
Total Sugars - 55gm
Includes 53gm Added Sugars
Vitamin B2 - 20mg
Proprietary Blend - 7.15gm
Creatine Monohydrate, Dandelion Root Extract, Dandelion Leaf Extract, Turmeric Root Extract, Juniper Berry Extract, Echinacea Purpurea Leaf Extract, Ginger Root, Licorice Root Extract, Milk Thistle Seed Extract, Uva Ursi Leaf Extract, Ligustrum Berry Extract, Corn Silk Extract, Apple Pectin, Guarana Seed Extract. 
Other Ingredients: Water, Dextrose, Fructose, Vegetable Glycerine, Citric Acid, Artificial Flavour, Sodium Benzoate (Preservative), Potassium Sorbate (Preservative), Malic Acid, Phosphoric Acid, F, D & C Red No. 40. 
Do not use this product if you are pregnant, breast-feeding, have kidney or gallbladder disorder or disease. This product is not recommended for prolonged use. This product is made with botanical herbs. When using this product you may experience nausea, dizziness, diarrhea or cramping. If you start to experience any of these symptoms, discontinue the use of this product immediately. If symptoms persist, seek medical assistance. This product is not recommended for children.