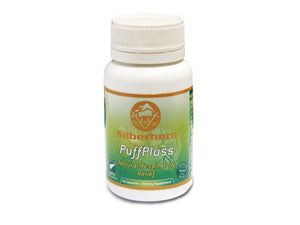 60 Capsules - PuffPluss has been formulated to support respiratory health and help maintain clear airways. It contains herbs that have been used for supporting respiratory wellness for centuries. Formulated under a Naturopath's guidance we are confident that PuffPluss will support a healthy respiratory tract and normal breathing.
PuffPluss contains the following herbs:
Elecampane helps to remove mucus from the lungs, bronchial and sinuses. Fenugreek helps remove toxins and mucus from the bowel. It supports the body's response to allergies. Fenugreek supports balanced blood sugar, healthy cholesterol, softens and dissolves catarrh and mucus and helps maintain clear airways.
Marshmallow soothes membrane tissues in the body.
Garlic supports healthy blood circulation to remove waste matter (mucous) from the body. Garlic supports the immune defences, protects the cells from damage due to toxicity and free redicals.
Horsetail supports blood circulation, kidney and artery health, aiding in elimination and filtration of toxins. It supports lung health and repair.
In conclusion PuffPluss capsules along with 6 glasses of water and the reduction or elimination of dairy products which create mucus, will support respiratory health and aid in the elimination of mucus.
---
Suggested Benefits:
Supports a health respiratory tract and normal breathing.
---
Recommended Intake:
2 capsules with each meal, children over 5, 1-2 capsules per day with food.
---
Notes:
Always read the label and use as directed.
If symptoms persist see your healthcare professional.
People on lung or heart medication should check with their doctor first.