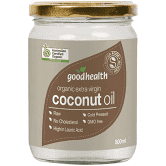 Good Health Organic Extra Virgin Coconut Oil is an excellent source of fatty acids and nourishment for dry skin and hair. 
Coconut Oil contains medium-chain fatty acids, these are well-utilised as an energy source by the body. 
High in lauric acid, coconut oil provides beneficial fatty acids.
Healthy fatty acids
Contains Medium chain fatty acids 
Can be used internally and externally for skin support
Non-GMO and virgin cold pressed coconut oil
100% Coconut Oil 
No added Gluten, Egg, Crustacea, Fish, Dairy, Soy, Yeast, Wheat.
Suitable for Vegetarians /Vegans 
Always read the label and use as directed. If symptoms persist, see your healthcare professional.
Directions
Suggested Use: May be used as an alternative to other oils for baking and frying, in blended drinks such as smoothies, or spread on toast in place of butter or margarine.   As a rich source of MCAs (medium-chain fatty acids.)  
Helping with energy and healthy weight management.
Precautions
Keep away from direct sunlight. 
Store in a cool, dark place.