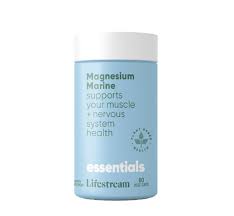 Lifestream Natural Magnesium provides an easily absorbed and concentrated dose of elemental magnesium. Factors such as mental and physical stress and a highly-processed diet may deplete magnesium levels in the body, limiting the body's ability to function at its best.
Necessary for proper muscle function
Healthy nervous system function
Supports relaxation and quality of sleep
Helps the production of cellular energy
This natural magnesium is sustainably sourced from sea salts through a process of filtering, blending and drying, without adding preservatives or chemicals.
ACTIVE INGREDIENTS
Each 2 Capsule Dose Provides: Magnesium hydroxide (natural marine source) 1g Providing Elemental Magnesium 350mg
Lifestream Natural Magnesium is free from gluten, dairy, artificial colours, flavours and preservatives.
DOSAGE
Adults: Take 2 capsules daily. Drink plenty of water.
Store below 30°C and away from direct sunlight. Do not use if cap seal is missing or broken. Keep out of reach of children.
Always read the label and take as directed.
Drink plenty of water.