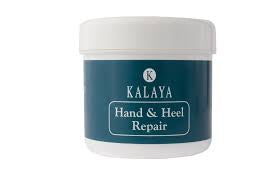 Hand and Heel contains Emu oil & vitamin E, Grapefruit seed extract and Beeswax. These key ingredients help support cell function and many facets of skin health.
It is aimed to help heal your skin and protect it from further damage, this can be due to everyday exposure to the elements through to working hands. Regularly used by farmers, gardeners, hairdressers, nurses and people with outdoor lives. 
Sun exposure reduces the levels of vitamin E in the skin, so we have prioritized this nourishing vitamin in this blend. Emu oil is not only highly nourishing but also has positive effects on collagen production, helping keep your skin elastic and hydrated.
This blend of natural ingredients contains natural antioxidants that can help protect your body from oxidative damage caused by free radicals, it also contains powerful anti-microbials which can kill some harmful bacteria. 
Hand & Heel Repair calms and soothes irritation of the skin, creating a natural barrier to the elements and locking in moisture.
Well priced and lasts a long time.
Kalaya Hand and Heel Repair | Emu Oil, Water, Alcohol, Almond Oil, E Wax, Beeswax, Vitamin E, Grapefruit Seed Extract.