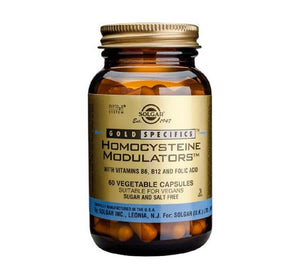 DESCRIPTION
Dosage:
Take two capsules daily, preferably with a meal, or as directed by a healthcare practitioner.
Description:
Homocysteine is made in the body as the result of protein metabolism. In healthy individuals, homocysteine build-up is prevented by either the conversion of homocysteine back to the amino acid methionine or into the harmless compound, cystathionine.

The conversion of homocysteine to methionine is dependent upon an adequate supply of methyl groups. These methyl groups are found in certain nutrients (eg. folic acid, B12 and trimethylglycine), which can act as methyl donors. The conversion of homocysteine to cystathionine is dependent upon vitamin B6. 

It;s possible that elevated levels of homocysteine in the blood may significantly increase the risk of cardiovascular disease and age-related cognitive disorders.
Benefits:
Helps to eliminate harmful homocysteine in the body
May support the cardiovascular system
Assists against age-related cognitive disorders
INGREDIENTS
Each capsule contains, 

Vitamin B6 25 mg
 - as pyridoxine HCl
Folic Acid 200 mcg
Vitamin B12 250 mcg
 - as cyanocobalamin)
Trimethylglycine [TMG] 500 mg
Pyridoxal-5-Phosphate 3 mg

Vegetable Cellulose
Vegetable Stearic Acid
Microcrystalline Cellulose
Vegetable Magnesium Stearate
PhytO2X® Antioxidant Blend *
 - natural beta-carotene
 - L-ascorbic acid

* PhytO2X® is a special blend of antioxidants, the purpose of which is to maintain the freshness of the ingredients
CAUTIONS
Free from Gluten, Wheat, Dairy, Soy, Yeast, Sugar, Sodium, Artificial Flavour, Sweetener, Preservatives and Colour

If you are pregnant, nursing, taking any medications or have any medical condition, please consult your healthcare practitioner before taking any dietary supplement

Discontinue use and consult your healthcare practitioner if any adverse reactions occur