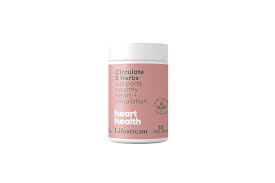 Do you suffer from cold hands or feet due to poor circulation? Do you feel like you need a little extra support for your memory? Maybe you've just found out that your cholesterol levels aren't as good as they should be. These are very different issues, but all can be addressed with our Circulate 5 Herbs (FKA High Potency Circulate).. Packed in 100% Sugarcane Plastic packaging - kerbside recyclable.
Helps to support circulation
Supports your heart + artery health
Supports you with alertness + focus
Garlic and Ginkgo to support circulation and heart health.
Why these herbs?  It's simple. 
Ginger is one of nature's most valued herbs being traditionally used by the Chinese for winter chills and cold limbs for over 5,000 years. It has warming and circulatory properties.
Cayenne is traditionally used as a warming circulatory tonic that helps stimulate blood circulation.
Garlic helps maintain normal blood lipid levels and may assist in improvement of blood flow in arteries.
Hawthorn supports function of the heart and arteries and healthy blood cholesterol levels (when taken at a dose of 2 capsules per day). Hawthorn also promotes healthy blood flow.
Ginkgo promotes blood flow to the brain and extremities and is an antioxidant and circulatory tonic. Ginkgo assists concentration and alertness.
Adults: 1-2 capsules daily
Children 6-12 years: 1 capsule daily
Best taken with food
Always read the label and take as directed
Store below 30°C and away from direct sunlight
Do not use if cap seal is missing or broken
Keep out of reach of children
Not recommended during pregnancy or breastfeeding
Not recommended with anticoagulant medication
Do not use if peptic ulcers are present.