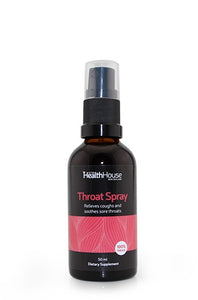 Now in a 50ml glass bottle
Health House Throat Spray syrup is all-natural and non-alcohol based. It tastes great and is suitable for the whole family. When those respiratory problems occur and a dry scratchy throat threatens to spoil your day, try our convenient spray bottle of Throat Spray.
A couple of sprays should soothe your throat. The antiseptic properties of the echinacea will support your recovery and healing.
The 100% natural ingredients
Honey based - Renowned for its antioxidant abilities. It has a pleasant taste and its coating ability makes it an ideal base for the throat spray.
Colloidal Silver - The antiseptic benefits of colloidal silver and its ability to enhance the health of your whole body is legendary. It is also excellent at supporting the body's immune system.
Marshmallow and Echinacea Gylcertracts - There are three ways of extracting herbs from plants in a liquid, using alcohol or hot water, or the more expensive and superior tasting gylcertract method. We chose the gylcertract method to ensure a sweet-tasting syrup and being alcohol free*, is better for children.
Blackcurrant Juice - The high concentrations of anthocyanins and antioxidants in blackcurrants influenced us to include New Zealand-made blackcurrant juice in the spray. The juice is from Canterbury blackcurrants and there is no added colour, flavour or preservatives. The high vitamin C content is another advantage in fighting the seasonal ills and chills.
Peppermint - A dash of peppermint is the final ingredient. Natural menthol in peppermint oil helps clear the head and soothe dry throats.
How to use
Throat Spray comes in a convenient spray bottle that you can carry with you, but if you prefer you can take off the lid and take one teaspoon (5ml) two or three times per day. Spray as often as required, but it is recommended you do not exceed 20ml (80 sprays) per day. The bottle contains about 200 sprays.
Due to the syrup containing honey, we do not recommend it for infants (under two years old) .
Rinse nozzle under hot water if spray volume reduces.
* Contains less than 1% alcohol by volume.
Canterbury Blackcurrants

  

Honey based

  

Prevent winter ills and chills spoiling your day

  

Soothes dry scratchy throats

  

Suitable for the whole family

  

Natural ingredients 
INGREDIENTS PER 50ML
WEIGHT
ACTIVE
Colloidal silver
16.25ml
16.25ml
Marshmallow glycetract
12.5ml
2.5ml
Honey
10ml
10ml
Echinacea glycetract
8.75ml
4.37ml
Blackcurrant syrup
2.5ml
2.5ml
Peppermint essential oil
0.01ml

0.01ml