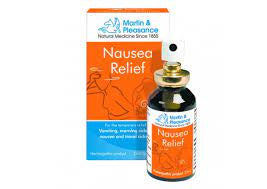 DESCRIPTION
Dosage:
1 dose is 4 sprays , under the tongue
Description:
Martin & Pleasance Nausea Relief is a homoeopathuc formulation combined with Schuessler Tissue Salts traditionally used for the relief of the symptoms associated vomiting, morning sickness, nausea and travel sickness.
Benefits:
Homoeopathic sleep support
Supports sleep from nervous tension and stress
INGREDIENTS
Cocculus 12C 
Ipecac 12C 
Sepia officinalis 6C 
Symphoriocarpus 12C 
Antimonium crudum 6C 
Natrium phosphoricum 6X 
Natrium sulphuricum 6X 
Contains ethanol
CAUTIONS
Always read the label and use only as directed. If symptoms persist consult your healthcare professional.