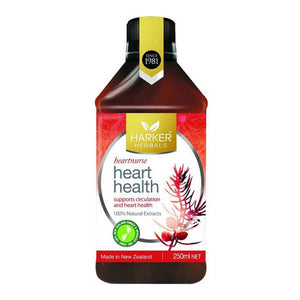 Harker Herbals Heart Health

 is a Healthy Heart and Arterial Mineral formula.

Supplies Calcium Chloride from Hawthorn berry, flower and leaf, for the healthy heart system.
General Advice:

Shake well 5 - 6 times up-ended to remix.
Initial Dosage: Day 1 - 1/4 dose, Day 2 - 1/2 dose, Day 3 - full dose, swill before swallowing.
Coffee/Tea: May be taken 1/2 hour before or after dose.
Preconception: (whilst attempting) 1/4 to 1/2 dosage.
Pregnancy: 1/4 to 1/2 dose daily up to 10 weeks.
Breastfeeding: 1/4 to 1/2 dose 2-3 x daily. May ease lactation.
Surgery: (all) 1/4 dosage, 2-3 x daily, recuperating. Stop tonic doses 1 week prior to surgery.
Drugs: Check drug/herb compatibility information sources prior to phurchase. Take nutrient tonic 1/2 hour before drugs. Reduce tonic dose to 1/2 if on drug medication.

N.B. This herbal nutriment (dietary supplement) is not a cure nor a remedy for any medical disorder, nor a substitute for orthodox medical attention and treatment. Do not exceed stated dosages. Refrigeration not required. Keep out of reach of Children. This preparation is NOT A MEDICINE and is prescribed for nutritional purposes only.
Aniseed
Cinnamon
Clove Bud
Coriander
Jojoba 
Rose
Black cohosh
Cayenne pepper or Chilli
Ginger
Hawthorn
Hawthorn berry
Kumarahou
Licorice
Motherwort
Valerian
Yellow dock
Carrageen (Irish Moss)
Celtic sea salt
Citric acid
Glycerine (veg)
Iodine (natural seaweed ash-derived organic iodine)
U.V. Light-Treated Rain Water
Directions
Adults:

Take 5-10ml three to four times daily, children take 1/2 dose.
Take before meals.
Precautions
Do not use during pregnancy or with concurrent use of Digoxin medication. Caution if using blood thinning medication.
People on prescribed medicines check with your doctor first. May potentiate the effect of hypnotic medicines. Care with driving and operating machinery.
In very rare cases, black cohosh has been associated with liver failure. If you are experiencing yellowing of the skin or whites of the eyes, dark urine, nausea, vomiting, unusual tiredness, weakness, stomach or abdominal pain, and/or loss of appetite, you should stop using this product and see your doctor.