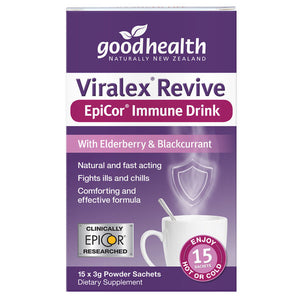 Highlights
Compromised immune system
Onset and recovery of ills and chills
Protection against recurring immune concerns
Good Health Viralex Revive EpiCor Immune Drink
 is a natural, fast acting, effective immune drink with clinically researched EpiCor®, for powerful immune support to fight ills and chills.
Viralex Revive comes in a convenient sachet that can be taken on-the-go as a comforting hot or cold drink. EpiCor® Viralex Revive, with Elderberry and Blackcurrant, is a natural, fast acting way to fight ills and chills.
EpiCor® is a unique whole food supplement ingredient that uses Saccharomyces cerevisiae in a proprietary process, to make a dried fermentate.  EpiCor® helps to maintain wellness and is comprised of dozens of nutrients that work together to help strengthen the immune system. It acts like a multivitamin and aids the body's defences across four key areas: EpiCor®: helps reinforce the first line of defence, the second line of defence; provides antioxidant protection in as little as two hours and supports gut health: Elderberry: (
Sambucus nigra
): A gentle but effective herb with a long history of use in supporting immune health. New Zealand Blackcurrant (
Ribes Nigrum
): Contains antioxidant compounds that are phenolics (including flavonoids and anthocyanins.) 
Ingredients: (per sachet) 
EpiCor® 250mg
Vitamin C 500mg
Sambucus nigra
 (Elderberry) Fruit 3000mg
Ribes Nigrum 
(NZ Blackcurrant) Fruit 6000mg
Also contains:
 Natural sweeteners, colours & emulsifying aids.
No added:
 Gluten, egg, fish, crustacean, dairy and soy.
Directions
Adults: 
Take 1-2 sachets daily. 
Children 6-12 years: 
1 sachet daily or as professionally advised.
Precautions
No known contraindication during pregnancy and breastfeeding.
Always read the label and use only as directed.