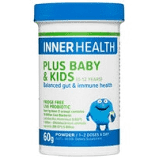 Ethical Nutrients Inner Health Plus Baby & Kids 60g
Inner Health Plus Baby & Kids may:
Supports gut health & digestive wellbeing
Supports immunity, reduces frequency of mild upper respiratory infections & maintains ear health
Supports good gut bacteria during antibiotic use
Each 1g dose 

(1 scoop

) contains: 
10 Billion Live Bacteria:
Lactobacillus rhamnosus (
LGG®
) 5 Billion 
Bifidobacterium animalis spp lactis (
BB-12®
) 5 Billion
Directions
Children from birth to 12 years: 
Take 1 scoop (1g) once daily mixed into water, juice, formula or milk (warm or cold). Sprinkle on cereal, food or take directly off the spoon. Alternatively take as advised by a healthcare professional.
For ear health, during and after antibiotic use:
 Take 2 scoops (2g) daily.
Precautions
Always read the label.
Follow the directions for use.
If symptoms persist, talk to your health professional. Metagenics NZ, Auckland.
No added artificial flavouring, colouring or preservatives.
Free from gluten, wheat, dairy, lactose, eggs and nuts.
Store below 25°C. 
Refrigeration not required.