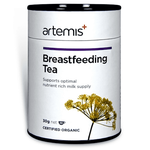 Artemis Breastfeeding Tea is traditional plant medicine to support optimal milk supply for nursing mothers. It includes Fennel and Nettle, widely used to support milk supply. The targeted nutrients support uterine recovery after labour. Take Artemis Breastfeeding Tea for ultimate support during nursing.
Directions
Use 1 level tsp (1g) per cup (150ml) and infuse with boiling water for 5-10 minutes.
Dose: For low milk supply take 3 cups throughout the day – morning, afternoon and evening. To maintain healthy milk supply, take 1 cup each day, for the period of lactation.
Always read the label and use as directed. If symptoms persist, see your health professional.
Special Instructions:
 Shake contents before opening. Do not microwave. To avoid external contamination close can immediately after use. Keep away from heat and moisture. Store in fridge in hot and humid climates.