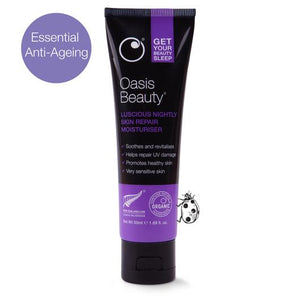 Beauty Sleep Luscious Nightly Skin Repair Moisturiser is an overnight sensation. Packed with natural anti-ageing and skin repair ingredients it delivers the boost your skin needs whilst you sleep and helps to repair the signs of premature ageing caused by sun damage including fine lines, uneven skin tone and dryness. 
As you sleep your skin goes into repair and renewal mode - so it's the perfect time for it to benefit from these powerful ingredients. We've included resveratrol and hyaluronic acid to improve fine lines and smooth skin; vitamin C for antioxidant action and vitamin A to encourage skin cells to turn over faster for a smooth, healthy appearance. 
Meanwhile aloe vera and chamomile combine to soothe skin; rosemary helps to reduce puffiness and rosehip, apricot kernel, shea butter and evening primrose provide awesome moisturising action. 
So you might be sleeping but Beauty Sleep will be hard at work, making sure you wake up with great looking skin. 
Active Naturals: rosehip, aloe vera, apricot kernel, evening primrose, NZ honey, lecithin, shea butter, hyaluronic acid, rosemary, red grape (resveratrol), apple, lavender, frankincense, chamomile and vitamins A (retinol),C & E
Beauty Sleep Luscious Nightly Skin Repair Cream:
Soothes and revitalises tired, stressed, sensitive skin
Helps repair premature skin damage caused by sun exposure
Promotes healthy radiant skin for all ages
Supports and maximises natural skin regeneration whilst you sleep
Suitable for very sensitive skin
Free from parabens, mineral oil, phthalates, sulphates 
Packed in a 50ml recyclable tube and box