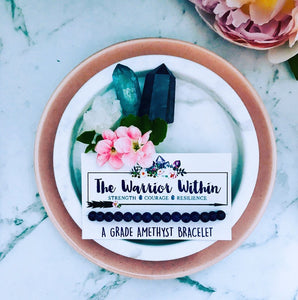 Our Amethyst Warrior bracelets are now available in both child and adult sizes! 
Handcrafted bracelets made from 100% Natural A Grade Amethyst to turn your worrier into a WARRIOR!
If you or your child has things that you are worried about, give them(and yourself!) the gift of an Amethyst Warrior bracelet!
*Comforting for times of stress & worry
*Reduces the tension & stress that comes from worrying
*Helps you remain calm and focused
*A daily reminder that you are a WARRIOR!
Please note: Due to the nature of Amethyst, beads will vary in depth of colour. Child bracelets are lighter as the beads are smaller and allow more light to pass through.
Sizing: Sliding knot design allows the bracelet to be tightened to the required size. Adult size opens to 20cms. Child size opens to 16cm. For the child bracelet it is best to check with a piece of string this is able to get over your child's knuckles. These are diddly little bracelets designed for small children. Older children (approx 10+) may be better with the adult size.
Child Bead Size: 6mm
Adult Bead Size: 10mm