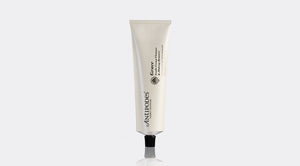 Clear impurities and remove your makeup gracefully with this organic and vegan dermatologically tested cleanser that's a true gift for sensitive skin.
Skin Benefits
This blissfully creamy formulation includes super-antioxidant Vinanza® Oxifend, naturally extracted from pinot noir grapes sustainably cultivated on award-winning New Zealand vineyards. Nutrient-rich avocado oil and marigold bloom gently yet effectively cleanse, freshen and soften your skin. Suited to most skin types, especially sensitive.
Scientific Validation
Dermatologically approved for sensitive skin in an independent laboratory study of 50 women with sensitive skin (NYC 2012).