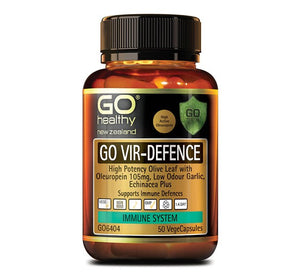 Go Healthy Go Vir-Defence is designed to support recovery from winter ills and chills. Go Vir-Defence supports a strong immune system and the body's defences to deal with winter threats.
Each vege capsule contains:
Olive Leaf (Olea europaea) ext. equiv. to dry leaf 6250mg
   equiv. to Oleuropein 105mg
Garlic Low Odour (Allium sativum) ext. equiv. to dry bulb 1,200mg
Echinacea (Echinacea purpurea) ext. equiv. to dry 1000mg
Pau D' Arco (Tabebuia avellanedae) ext. equiv. to dry stem bark 250mg
Citrus Bioflavonoids 20mg
Zinc citrate (equiv. to Zinc 5mg) 16mg
Elderberry (Sambucus nigra) ext. equiv. to dry fruit 220mg
Vitamin C (Ascorbic Acid) 50mg
May contain encapsulating aids.
Contains no added: Wheat, gluten, corn, yeast, milk, artificial flavours or preservatives. 
Directions
Adults: Take 1 vege capsule daily. 
A maximum of 2 vege capsules can be taken daily during acute onset.   
Can be taken anytime, with food or on an empty stomach, or as directed by your Healthcare Professional.
Precautions
Not to be taken during pregnancy or lactation.
Discontinue one to two weeks prior to surgery.
Always read the label. Take only as directed.
If taking prescription medication or if in doubt, consult your Healthcare Professional.
Do not use in place of prescribed anti-virals or anti-infectiv