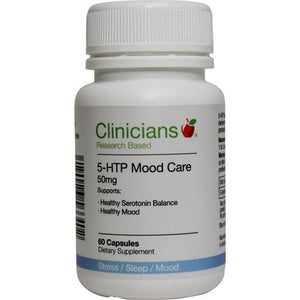 Clinicians 5-HTP Mood Care is formulated to support normal mood balance. 
It contains a quality source of natural 5-Hydroxytryptophan, derived from the seed Griffonia simplicifolia. 5-HTP supports serotonin production for balanced moods.
Each Gelatin Capsule Contains:



Also contains:

 calcium lactate, magnesium stearate, silicon dioxide, tapioca powder. Calcium content (from calcium lactate) 48mg/capsule.
No added:
 Gluten, dairy, yeast, sugar, artificial colours or preservatives.
Directions
Adults: Take 1 to 3 capsules at night or as directed
Precautions
Please consult your healthcare professional before taking 5HTP. 
Should not be taken with antidepressant medications. 
5HTP can cause nausea and diarrhoea in some individuals. It is advised that you stop taking 5HTP if you experience this. 
Little is known about the use of 5-HTP in pregnancy and breastfeeding. 
This supplement is not recommended for use during pregnancy and breastfeeding unless under health supervision.