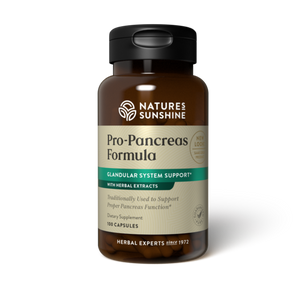 Nature's Sunshine Pro-Pancreas
Pro-Pancreas is an herbal formula designed to support the health and functioning of the pancreas.
Pro-Pancreas contains 14 herbs that help to maintain blood sugar levels already with in the normal range, healthy digestion, toxin cleansing and detoxifying, muscle function and support for the prostate gland, kidneys and liver.
Pro-Pancreas supplies the body with chromium, selenium, iron, zinc, sodium, vitamin A, Vitamin C and niacin.
Indications for use
Supports proper pancreas function
Supports blood sugar levels already in the normal range
Healthy liver function
Ingredients
Per 2 capsules
Proprietary blend 900 mg
Golden Seal Root and Rhizome (Hydrastis canadensis)
Juniper Berries Cones (Juniperus communis)
Uva Ursi Leaves(Arctostaphylos uva ursi)
Rose Hips Fruit (Rosa canina)
Mullein Leaves (Verbascum thapsus)
Garlic Bulb (Allium sativum)
Yarrow Aerial Parts (Achillea millefolium)
Slippery Elm Bark (Ulmus rubra)
Capsicum Fruit (Capsicum annuum)
Dandelion Root (Taraxacum officinale)
Marshmallow Root (Althaea officinalis)
Nettle Leaves (Urtica dioica)
White Oak Inner Bark (Quercus alba)
Licorice Root (Glycyrrhiza glabra)
Recommended Dose
Adults: Take 2 capsules with a meal three times daily.