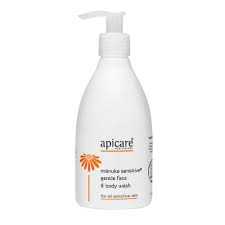 Our Manuka Sensitive face and body Wash has been formulated for those with sensitive, very dry & fragile skins.  Free from soap and harsh detergents, this mild, effective foaming wash will leave skin cleansed without causing irritation, tightness or discomfort. FREE from Colour, fragrance and alcohol. Healing Calendula extract, soothing UMF 15 Manuka honey, extracts of Oat and Licorice have been added for their healing properties. Suitable for all age groups.
Key Benefits
pH balanced so skins natural acid mantle is not disrupted.

Free from fragrance, soap and alcohol.

Removes dirt and daily debris pollutants without harshness.

Effectively cleanses and soothes even the most sensitive and fragile skins.

Calendula & Licorice extract to soothe sensitive skin.

Oat extract has been shown to give significant improvement in skins prone to dryness, scaling and roughness. 
Mel (Manuka Honey) UMF15
Some Manuka Honey has unique healing factors. This is known as UMF Unique Manuka Factor which refers to the level of antibacterial activity. This factor provides an additional potent anti-bacterial action on top of the usual antibacterial abilities of all honeys.
Manuka UMF has also been shown to diffuse deeper into skin tissues.
Manuka honey is tested for its level of activity and issued a number. So a rating of 10 indicates the same level of antiseptic potency of a 10% solution of Phenol (carbolic disinfectant). The higher the rating, the higher the level of activity.
All the Manuka used in Apicare products has been tested and certified by an independent laboratory.
In addition to its antibacterial abilities, Manuka honey has been shown to be deeply penetrating and hygroscopic (attracts moisture to it), and therefore, very hydrating.  It has anti-fungal and anti-inflammatory properties and has demonstrated the ability to accelerate tissue repair, aiding in skin repair and the reduction of scarring.
Oat Kernel (Collodial) Extract
Oatmeal has a number of biologically active properties that are benefical in skin care treatment. Collodial Oatmeal is a very finely ground powder and is used to help atopic dermatitis, contact dermatitis, chickenpox, dry skin and reactions to insect bites.
Studies have shown that colloidal oatmeal binds to the skin and provides a protective barrier against irritants. It contains water binding polysaccharides (long chain sugars) and hydrocolloids that hold moisture against the skin allowing it to act as an emollient.
Oatmeal also has a range of other components that exhibit anti oxidant and anti inflammatory activity as well as ultraviolet light absorption.