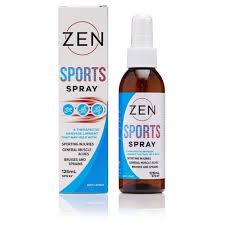 DESCRIPTION
Dosage:
Apply 1 to 4 sprays and gently rub in to the affected area, 1 to 4 times daily. Can be used before or after sporting activity as needed. Ideal for sprains, bruises, general muscle aches and sporting injuries.
Description:
Zen Sports Spray is specifically formulated to be suitable for use before and after sporting activities as needed and is ideal as a recovery solution for Sports Injury Treatment.

It contains two scientific ingredients (Arnica montana and Mentha arvensis) to help relieve minor sports injuries including bruises, sprains and general muscle aches. It is supported by 3 traditional Chinese herbs to help promote blood circulation, alleviate pain and relieve inflammation and swelling.
Benefits:
Supports the relief of sprains, general muscle aches and bruising
Promotes blood circulation to relieve joint discomfort
Fast and effective topical soothing
Ideal as part of sports injury treatment
INGREDIENTS
Ative ingredients, 

Boswellia carterii stem bark resin
Arnica montana flower
Panax pseudoginseng root
Commiphora myrrha stem bark resin
Mentha arvensis herb oil
Camphor
CAUTIONS
Spot test prior to use