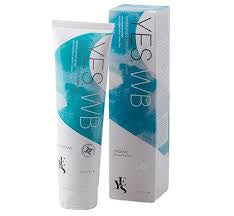 Water-Based Organic Vaginal Lubrication
Are you used to sticky, conventional lubes full of synthetic ingredients? If you buy YES WB Water-Based Lubricant, you'll experience a world of difference. It's time to celebrate the absence of anything that might interfere with your intimate health or pleasure!
YES organic vaginal lubrication feels and behaves like the real thing and has beautiful skin-nourishing and moisturising effects. Get silkiness, not stickiness; cherish your body rather than exposing it to unwanted chemicals.
YES WB Natural Lube helps you prolong your love-making with ease and sensuousness with a thoroughly researched, responsibly formulated organic product.
Key Features of YES WB Water-Based Lubricant:
Enhances sexual pleasure & sensitivity with silky sensuous feel
Compatible with natural rubber, latex & polyisoprene condoms & toys
pH-balanced for the vagina
Intensely hydrating to rapidly relieve dryness & discomfort
Perfect substitute for the body's own lubrication
No smell, no taste, no stickiness
Gynaecologist-recommended
Hypoallergenic: formulated to minimise the risk of allergies
Replenishes natural moisture
Protects mucous membranes and, if necessary, supports healing
Leaves skin clean & residue-free
YES WB Natural Lube Ingredients
organic aloe vera (renowned skin food)
organic flax extract (particularly beneficial for mucous membranes)
3 synergistic plant-based gums – guar, locust bean and xanthan (contribute to deep velvety texture)
food-grade preservatives
citric acid to buffer the pH