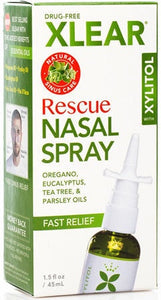 Xlear Rescue Xylitol & Saline Nasal Spray 45ml
Xlear Rescue Xylitol & Saline Nasal Spray Features Herbal Supplements such as Pau d'Arco, and Essential Oils Oregano, Parsley, Eucalyptus, and Tea Tree for Fast, Effective Relief
Xlear Rescue Xylitol & Saline Nasal Spray is Formulated for Relief from Congestion, Sniffles, and Contaminants in the Air
Xlear Rescue Xylitol & Saline Nasal Spray is drug-free with no risk of rebound or addiction, designed for when you need a stronger, but still natural, punch against whatever is causing your upper respiratory problems. Herbs and essential oils have long been used for natural relief from dozens of ailments. Just like the original Xlear Nasal Spray, Xlear Rescue is drug-free with no risk of rebound or addiction. It plays an important part in the leading natural Xlear Sinus Care line as the only option providing herbal sinus care. Xlear Rescue is another important tool in your arsenal to breathe better so you can enjoy your life and feel good about what you're putting in your body.
Features herbal supplements and essential oils: Pau d'Arco, Oregano, Tea Tree, Eucalyptus, and Parsley
Drug-free formula means no risk of addiction or rebound, no matter how often you need to use it
Easy-to-use metered pump spray nozzle delivers about 240 fine-mist sprays, meaning lots of relief per bottle
Unique herbal blend combined with Xlear's patented original nasal spray formula for fast relief you can count on
Natural ingredients, so you don't have to worry about what you're putting in your body 
Xlear Rescue Xylitol & Saline Nasal Spray contains:
Purified Water - Purified through reverse osmosis and used as a carrier and solvent
Xylitol - Sourced from non-GMO corncobs and stalks - used as a natural sweetener, a moisturizer, and for its anti-adhesive effect on bacteria. Pure xylitol is a white crystalline substance that looks and tastes like sugar. It's not an artificial sweetener, but an all-natural sugar alcohol found in many fruits and vegetables and produced in small amounts by the human body. Xylitol has been researched for over 40 years, resulting in thousands of studies confirming its effectiveness and safety.
Glycerin - Sourced from non-GMO date palm fruit as a natural emulsifier
Sodium Chloride - Sourced from natural mineral deposits as a cleansing agent to help increase mucus flow
Sodium Bicarbonate - Sourced from a mineral deposit for use as a buffering agent for stable pH
Oat Beta Glucan - Oat-based thickener used for its soft tissue-soothing properties, wound healing support, and mild immunostimulation abilities
Oregano Oil - Included for its natural antiviral and anti-fungal properties
Tea Tree - Natural antiseptic, used for its anti-irritant properties
Parsley Oil - Natural astringent with antimicrobial, antiseptic, and detoxifying properties
Pau D'Arco - Traditionally used as an antimicrobial, antiviral, antibacterial, anti-fungal, and anti-inflammatory ingredient. Also often used as an immune-booster and astringent
Grapefruit Seed Extract - Sourced from non-GMO grapefruit seeds and used as a natural preservative 
Directions: The metered nasal pump sprayer provides a precise amount of spray in a fine mist. Use Xlear Rescue for relief from congestion, sniffles, and contaminants in the air. For regular daily use, we recommend original Xlear Saline Nasal Spray with Xylitol.
Clear the nasal passageway by gently blowing your nose before using
Prior to initial use, remove clear cap, prime the pump by holding it upright and pumping one or more times until the solution is dispensed
Insert nozzle into nostril and depress pump completely while breathing in through your nose. Spray 1-2 times in each nostril four to five times a day until symptoms subside
Clean nozzle after use and replace the safety cap 
Ingredients: Purified water, Xylitol, Glycerin, Sodium chloride, Sodium bicarbonate, Oat Beta Glucan, Oregano Oil, Tea Tree, Parsley Oil, Pau D'Arco, Grapefurit extract
Precautions: Keep out of reach of children. Do not take if you have a known allergy to any of the ingredients listed.
Presentation: Each pack contains 45ml