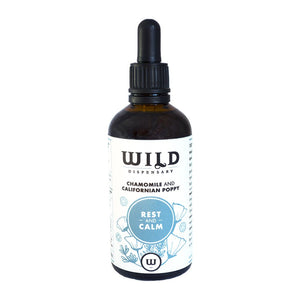 Wild Dispensary's Rest and Calm
One of the most important things we need for our health is a restored nervous system. Our nervous system is what helps us get through the day and is most affected when we are stressed/anxious or tired. 
So many of us struggle to get to sleep, stay asleep or calm down enough to even think about it. 
That is why we formulated Wild Dispensary's nervine tonic using Central Otago Californian Poppy and Mihiwaka Organic Chamomile.
These amazing herbs help support the nervous system and also help support healthy sleep. 
It can also help with digestive upsets.
Ingredients
Wild harvested Californian Poppy  (Eschscholzia californica), Certified organic Chamomile (Matricaria recutita)
Contains no added
Wheat, soy, gluten, corn, yeast, dairy, sugar, honey and no artificial flavours, colours, preservatives or sweeteners.
Also contains ethanol and vegetable glycerin.
Recommended Dosage
For nervous system support (help with feelings of anxiety and worry)
2.5mls twice daily
For sleep support
5mls 1 hour before bed
2.5mls right before bed
Can be taken up to 3 times a day - taken straight or diluted in water or juice. 
Advice: Use as directed. Discontinue if any irritation arises. If symptoms persist see your health care professional. Store in cool dry place
Contraindications:
Allergy to asteraceae family (artichokes, daisies) should take care when taking Chamomile due to possible allergy.
We recommend consulting a healthcare professional prior to use during pregnancy