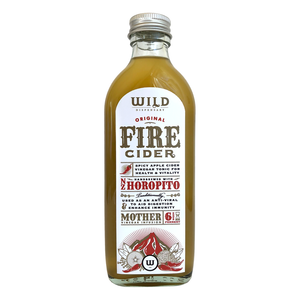 Wild Dispensary Fire Cider
Wild Dispensary's Fire Cider is a spicy, pungent, immune boosting, apple cider vinegar-based tonic. It has a kick!
Our Fire Cider is inspired by Rosemary Gladstar's 1970s recipe which she adapted from an old European gypsy formula. To add an Aotearoa/New Zealand signature we have infused our Fire Cider recipe with wild-crafted New Zealand medicinal herbs. Fire Cider is a powerful, enlivening tonic which can be used to help promote healthy gut bacteria - a natural probiotic. What makes Fire Cider so effective?
Horseradish - the star of the tonic. Traditionally used for its antibacterial properties

Cayenne pepper -adds heat and accelerates your metabolism

Ginger -traditionally used to aid digestion and provide warmth

Turmeric - well-known as an anti-inflammatory

Garlic, onion, thyme, rosemary, oregano, parsley and bay leaves – all traditionally used as antioxidants

Usnea - 

traditionally used for upper respiratory and lung infection

Kawakawa - 

traditionally used by Māori to support the body when under stress
Recommended Dosage/Use
Dilute 5ml (child) or up to 10ml (adult) with hot or cold water.
Max dose- 5 x daily dose
For the brave, take neat as a 'wellness shot'
Let thy food be thy medicine and add to salads, roast vegetables or steamed greens.
If unwell increase to 5 ml – 10 ml every 3-4 hours (max dose 5 x daily dose).
This product is handmade and natural - please shake well before use.