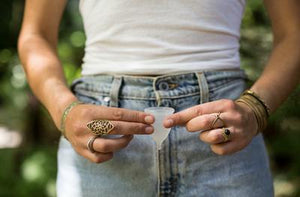 WHAT IS A WĀ CUP?
A Wā Cup is a small reusable medical grade silicone menstrual cup which is worn internally. It works by collecting your menses (menstrual fluid) rather than absorbing it and can be emptied as little as every 12 hours depending on your flow.
Wā Cups fold to the size of a tampon for insertion, then pop open inside your vagina/honey box/vajayjay [insert favourite vag. word here] to collect your flow.
WHY BUY FROM WĀ COLLECTIVE?
1) Wā Cups are designed for easy use and are made of the best stuff
2) Every cup sold subsidises one for a student in need, stopping period poverty from affecting education in Aotearoa
3) Your Wā Cup will revelutionise your period-ing