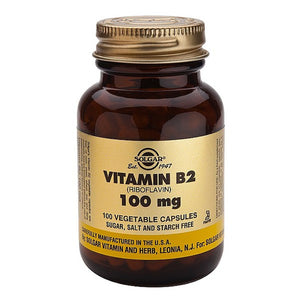 Solgar Vitamin B2 100 mg (riboflavin) is a high potency capsule and part of the essential Vitamin B Complex.  As a water soluble vitamin we need to ensure that we have adequate supply every day. Vitamin B2 has a role to support and promote energy metabolism, helps maintain normal nervous system, vision, skin and hair, supports the body in times of stress   
Red eyes may be a sign that the body needs more Vitamin B2. Some migraine suffers may also benefit from additional vitamin B2.  
Each Vegetable Capsule Provides: 

Riboflavin (vitamin B2) 100mg

Also contains: Hydroxypropylmethyl cellulose, magnesium stearate, silicon dioxide, microcrystalline cellulos
Directions
As a food supplement for adults, take one (1) capsule daily, preferably at mealtime, or as directed by a healthcare practitioner.