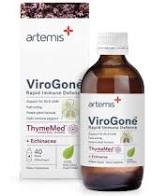 Supports a healthy immune response.
ViroGone is based on herbs used in a formula reputed to be originally developed during the Black Plague. As the rather grim story goes, for those that took it, it worked, warding off infection for robbers who looted the homes of the dead and dying. Fast forward to the present day, this improved formula continues to deliver. ViroGone is traditional plant medicine to support and boost your immune system. When you start to feel unwell, take a healthy dose of ViroGone for immediate action. For ultimate protection, take every day as a proactive defence.
Take ViroGone for powerful support against ills and chills.
| | | |
| --- | --- | --- |
| Dose: | Immediate Support: | Preventative:  |
| Adult | 5ml, up to 5x daily | 5ml, 1x daily  |
| 6-12yrs | 2.5ml, up to 5x daily | 2.5ml, 1x daily |
| 0-6 years | Kids ViroGone | Kids ViroGone |
For immediate support, take every 30 minutes for up to 3 hours. Do not exceed 6 doses per day. As a preventative, take 1 dose daily.
Always read the label and use as directed. If symptoms persist, see your health professional.
Special Instructions: Shake well before use. Store out of direct sunlight, in a cool place.
Safety:
- No documented herb-drug interactions within the recommended dosage
- Contraindications: over-sensitivity to any ingredients
- Check ingredients for known allergies or over-sensitivity
- Discontinue use if irritation occurs
- No restriction on long term use
- Suitable for pregnant and breastfeeding women
- NOT recommended for bronchial asthma
Oral Liquid Ingredients:
In a natural vegetable glycerin base. Contains ethanol. Hypoallergenic. Does not contain sugar, artificial sweeteners, colours, flavours, preservatives, gluten, wheat or dairy. GE Free.