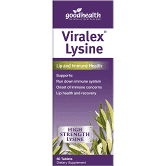 DESCRIPTION
Dosage:
Maintenance dose: Adults: Take 1 tablet up to 3 times daily with food or as professional advised. Acute dose – 2 tablets twice daily with food.
Description:
Good Health Viralex® Lysine is a combination formula, providing the immune benefits of both lysine and olive leaf extract. 

Lysine is an essential amino acid, a necessary building block that supports the immune system and lip health concerns. 

Olive leaf is a traditional herb providing an antioxidant benefit to naturally boost immunity and support recovery particularly during times of stress.
Benefits:
Supports healthy lips during times of stress
Immune support for run down immune systems
Provides lysine, zinc and olive leaf extract
Take regularly if prone to outbreaks
CAUTIONS
Suitable for vegetarians and vegans

Not suitable in pregnancy and breast feeding 

Take at least 2 hours away from prescription medication