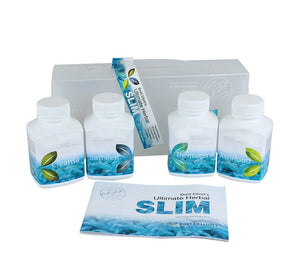 DESCRIPTION
Dosage:
Take up to 16 capsules daily for one month
Description:
Possibly the most holistic Herbal SLIM program in the world. This 4 part herbal program boosts metabolism, curbs addictive cravings, provides super-foods, and gently stimulates and cleanses the colon.  

Thousands of people have already used Brett Elliott's Ultimate Herbal SLIM to reach their ideal weight management goals, improve their health and transform their lives without leaving the comfort of their own home.

Brett Elliott's Ultimate Herbal SLIM comes with four 100% pure herbal products manufactured in New Zealand. The herbs are carefully selected for their specific benefits and combined to give you the kick start and balance you need.

You also receive the beautifully illustrated User Guide and Recipe Booklet which guides you step by step through the Herbal SLIM program.

The herbs and the user guide come in a stylish carry box for your convenience.

Are you ready to take control of your weight?
Benefits:
100% Natural 
No Side effects
Pure Herbs
No Chemicals
Nothing artificial
No Caffeine     
Metabolic rate; by boosting your metabolism you get more energy, allowing your body to burn fat
Blood sugar; regulating blood glucose gives a steady level of fuel to the cells and controlling cravings
Nutrient supply; keeping the body nourished and not deficient.
Digestive function; encouraging optimal, comfortable and regular intestinal movement.
A whole-food diet; providing optimal nutrient supply and optimal digestion.
By using herbs you can safely achieve all of the above without side effects and without developing dependency. 
INGREDIENTS
Wormwood bark
Psyllium husk 
Cascara bark 
Fennel seed 
Slippery Elm bark
Wild Yam Root
Caralluma  
Gymnema
Chromium polynicotinate 
Coleus forskohlii 
Black pepper
Guarana fruit
Bitter orange peel
Green Tea leaf
Garcinia combogia 
Ginger rhizome
Cayenne fruit
Barley grass leaf 
Kelp 
Beetroot 
Alfalfa leaf 
Spirulina 
White Kidney Bean 
CAUTIONS
A weight management program should be used alongside a healthy diet and exercise. Diabetics should consult their doctor and monitor blood sugar levels as medication may be able to reduce during and after the program.
Ultimate Herbal Health products should not be used by pregnant or nursing women, by children under 12, or by anyone with a serious medical condition. Do not use Ultimate Herbal Health products if you are allergic to any of the ingredients. If you are taking any medications or have any serious health condition please consult with a healthcare professional before using Ultimate Herbal Health products.