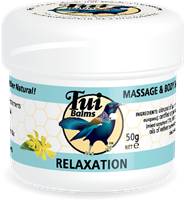 Uniquely Relaxing

Description

A unique blend that has many enthusiastic users. Formulated to help with insomnia, nervous exhaustion & stress conditions.

Uses

The semi-solid consistency provides ideal friction, eliminates spillage & improves the flow of the massage. A supreme medium for massage & also wonderful as a skin conditioner after showering.

Ingredients

Almond oil, Olive oil, certified organic NZ Beeswax, vitamin-E, Arnica oil, essential oils of Vetiver, Ylang Ylang & Petitgrain.

 Latin Names

Notes

Tip: Use Tui Cooling & Soothing Balm or Tui Warming & Easing Balm for spot work.