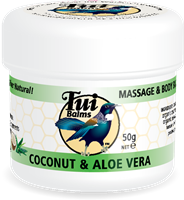 Description

This new recipe was designed in heaven! Smooth buttery texture with the sweet scent of true coconut. Aloe vera nourishes dry & sun damaged skin, is an anti-inflammatory & a wound healer. Coconut is a natural moisturiser & anti-bacterial.

Uses

Dual purpose: body moisturiser & massage butter. The semi-solid consistency provides ideal friction for massage, eliminates spillage & improves the flow of the massage.

Ingredients

Olive oil, certified organic Coconut oil, certified organic NZ Beeswax, Aloe vera, Shea butter, vitamin E.

 Latin Names

Notes

Hypoallergenic without almond or arnica oil.