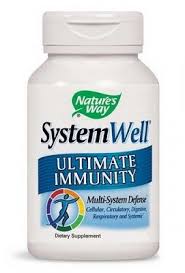 Description
Multi-System Defense
Cellular, Circulatory, Digestive, Respiratory and Systemic
Dietary Supplement
Ultimate Immunity
SystemWell is the Multi-System Defense formula for five essential aspects of healthy immunity:
Respiratory
Digestive
Systemic
Circulatory
Cellular
Suggested Use
Recommendation: For Intensive Use: Take 3 tablets up to twice daily with water. For Daily Maintenance: Take 1 to 2 tablets daily with water.
Other Ingredients
Cellulose, stearic acid, silica, sodium croscarmellose, hypromellose, magnesium stearate, glycerin.
Contains no sugar, salt, yeast, soy, dairy products, artificial colors, flavors, or preservatives.
Warnings
Do not use this product if pregnant, nursing, or attempting to become pregnant. Do not exceed recommended dosage per day. Do not use if you have a bleeding disorder, are within a week of any surgical procedure, or are taking blood-thinning medication. If taking any other medications, have a kidney disorder, diabetes, or high blood pressure, consult a healthcare professional before use. Not recommended for individuals with autoimmune conditions. Persons with allergies to plants of the Asteraceae (Compositae) family, including ragweed, should use this product with caution.
Keep out of reach of children. Safety sealed with printed outer shrink-wrap and inner seal. Do not use if either is broken or missing.