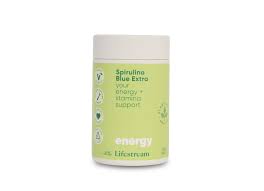 Lifestream Spirulina Performance provides an extra level of energy and has higher levels of energy boosting Phycocyanin than our other spirulinas. When taken as part of a healthy diet made up of a variety of foods. 
Lifestream Spirulina Performance: 
Supports increased energy demands
Supports muscle recovery 
Provides protection against oxidative stress
Is naturally bioavailable 
Lifestream have been spirulina experts for over 30 years.  The original sustainable superfood, Lifestream Spirulinas are non-GMO and sustainably sourced from the global leaders in microalgae research and cultivation.  
Directions
Adults: Take 6 tablets (3.7g) daily.
Increased amounts up to 18 tablets daily can be taken as advised by your healthcare professional.
Children 6 - 12 years: Take 3 tablets (1.87g) daily.
If you have not taken spirulina before start with a lower dose of the tablets and build up to the daily dose.
Precautions
If you have a very sensitive digestive system or may be one of the very few people who have an algae allergy, please check with your Healthcare Practitioner before using Lifestream Spirulina. 
If you are taking any prescribed medications we recommend you check with your healthcare professional before taking supplements.

This product contains Chromium. People with diagnosed diabetes should check with their doctor as blood sugar levels could be altered when using this product.