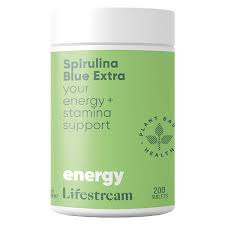 Feeling tired? Are you lacking in iron and vitamin B12? Perhaps you're super active or maybe just stressed from having too much on? Great news! We have created the perfect supplement for you with our Spirulina Blue Extra! (FKA Extra Strength Blue Spirulina Performance) Packed in 100% Sugarcane Plastic packaging - kerbside recyclable.
Provides iron and vitamin B12
Supports increased energy demands
Supports high performance and muscle recovery
Provides protection against oxidative stress
Is naturally bioavailable
Our Spirulina Blue Extra utilises an incredible algal plant superfood, which is high in bioavailable phycocyanin (23% - much more that other Spirulinas on the market).
This powerful antioxidant, together with vitamin B3, GLA and zeaxanthin is a unique combination that makes it the perfect Spirulina for people who are under increased stress, immune compromised or just needing extra energy to perform at their best.
If you're leading a hectic and active lifestyle, this powerful natural formula rich in vitamins, minerals, antioxidants and essential amino acids will provide you with optimal nutritional support and support muscle recovery and reduce oxidative stress in the body.
Our Spirulina is grown away from pollution in pure mineral-rich water. It is non-GMO and sustainably sourced by the global leaders in microalgae research and cultivation.
Adults: 6 tabs (3g) daily
Increased amounts of up to 18 tablets daily can be taken as advised by your healthcare professional
Children 6-12 years: 3 tabs (1.5g) daily
ACTIVE INGREDIENTS per Tablet: Spirulina Powder (Arthrospira platensis) 473mgPhycocyanin Powder 22.5mgAlso contains Opadry II and Natural Vanilla Powder. ACTIVE INGREDIENTS PER TAB: Spirulina powder, Phycocyanin, Silica, Micro-crystalline cellulose, Magnesium stearate, Natural vanilla. No added dairy, soy, gluten or wheat. Packed in New Zealand from an imported ingredient.