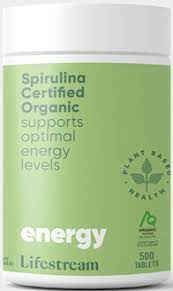 Lifestream Organic Spirulina Boost is a certified organic nutrient-rich superfood. This powerful plant protein provides antioxidants, phytonutrients, and essential, naturally occurring, vitamins and minerals for sustained energy. From the birthplace of Ayurveda, Organic Spirulina Boost is grown away from pollution in pure mineral-rich water.
Highlights
Supports energy levels, vitality, and stamina 
Antioxidant protection
Supports heart health 
Supports a healthy nervous system 
Protein source suitable for vegetarians/vegan
Directions
Adults:
 Take 6 tablets (3g) daily.
Adults:
 Increased amounts up to 18 tablets daily can be taken as advised by your healthcare professional.
Children 6 - 12 years:
 Take 3 tablets (1.5g) daily.
Precautions
If you are taking any prescribed medications we recommend you check with your healthcare professional before taking supplements.

This product contains Chromium. People with diagnosed diabetes should check with their doctor as blood sugar levels could be altered when using this product.