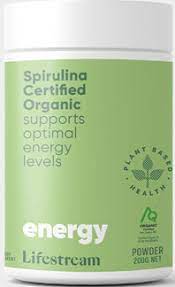 Lifestream Organic Spirulina Boost is a certified organic nutrient-rich superfood. This powerful plant protein provides antioxidants, phytonutrients, and essential, naturally occurring, vitamins and minerals for sustained energy. From the birthplace of Ayurveda, Organic Spirulina Boost is grown away from pollution in pure mineral-rich water.
Highlights
Certified organic nutrient-rich superfood
Natural source of easily absorbed iron
Contributes to energy production & supports a healthy immune system
Suitable for vegetarians & vegans
Certified Organic Spirulina powder (arthrospira platensis)


Nutritional Information Per 3g Serve:
Energy 48kJ
Protein 2.0g
   -gluten NIL
Fat, total 0.2g
   -saturated 0.1g
Carbohydrate 0.4g
   -sugars 0.1g
Sodium 24.5mg
Vitamin B1 26.4mcg
Vitamin B2 243mcg (14% RDI*)
Vitamin B3 408mcg
Vitamin B5 11.1mcg
Vitamin B6 24.9mcg
Folate 5.8mcg
Vitamin K 75.0mcg (94% RDI*)
Vitamin E 167.4mcg
Biotin 0.3mcg
Inositol 2.5mg
Calcium 3.7mg
Chromium 0.5mcg
Copper 8.6mcg
Iron 1.4mg
Magnesium 8.3mg
Manganese 87.0mcg
Phosphorus 28.6mg
Potassium 42.0mg
Selenium 0.3mcg
Zinc 42mcg
Beta carotene 5.0mg
Lutein 171mcg
Phycocyanin 468mg
Chlorophyll 44.4mg
Zeaxathin 2.4mg
Gamma Lionleic Acid (GLA) 33.6mg
Linoleic Acid (LA) 36.6mg
All values specified above are averages.
*RDI = Recommended Daily Intake

Free From: Dairy, soy, gluten, and wheat.
Directions
Adults:
 Take 1 teaspoon (3g) daily
Children 6-12 Years:
 Take ½ teaspoon (1.5g) daily
Increased amounts can be taken as advised by your healthcare professional.
Precautions
If you are taking any prescribed medications we recommend you check with your healthcare professional before taking supplements.
The spirulina in this product has been tested for and shown to contain nil detectable amounts of BMAA.