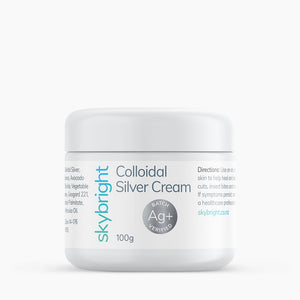 A well absorbed, nourishing cream suitable for all skin types. Especially effective for dry, chafed skin and to help heal and revitalise cuts, insect bites and minor burns.
Colloidal Silver supports the body's immune system and defences for natural healing. The anti-bacterial benefits of New Zealand Mānuka honey and New Zealand Mānuka oil support the body's natural response. The blend of emollients and nourishing, vitamin-rich Avocado and Jojoba oils are absorbed quickly, leaving skin feeling hydrated and revitalised.
Dosage:
Apply to affected area as required.
Active Ingredients:
Ionic Colloidal Silver, Citrus seed extract, Mānuka honey, Mānuka oil, Jojoba oil, Avocado oil, Glycerin.