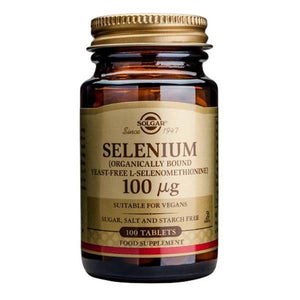 Solgar Selenium 100mcg is an essential trace mineral in a yeast-free form organically bound L-Selenomethionine.  Methionine, an amino acid is essential for absorption, transport and supports bioavailability of selenium and the most effective amino acid for chelation with selenium. 
New Zealand soil is known to be deficient in this nutrient.   Selenium acts as a powerful antioxidant, helping deal with free radicals caused by stress, pollution and day to day living.  It also has a number of benefits, including; supporting the immune system, cognitive function, skin, thyroid function, women's fertility and for men, supports sperm production and prostate health. 
| Each tablet provides: |   | % EC RDA* |
| --- | --- | --- |
| Bulking Agents: dicalcium phosphate, |   |   |
| microcrystalline cellulose |   |   |
| Anti-caking Agents: silicon dioxide, vegetable magnesium |   |   |
| stearate |   |   |
| Cellulose Gum |   |   |
| Selenium (yeast-free L-selenomethionine) | 100 µg | 182 |
*EC RDA = EC Recommended Daily Allowance
FREE OF: Gluten, Wheat, Dairy, Soya, Yeast, Preservatives, Sweeteners, Artificial Flavours or Colours
Directions
As a dietary supplement for adults, take one tablet daily, preferably at mealtimes, or as directed by a healthcare practitioner.
Precautions
If you are pregnant, nursing, taking any medication or have a medical condition, please consult your healthcare practitioner before taking any dietary supplement.
This product contains selenium which is toxic in high doses.  A daily dose of 150 micrograms for adults of selenium from dietary supplements should not be exceeded.