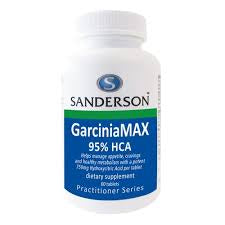 SANDERSON GarciniaMAX is a very high potency extract from the rind of the Asian fruit Garcinia Cambogia (Malabar tamarind). This extract is standardized to 95% of the scientifically researched active ingredient Hydroxycitric acid (HCA) to effectively support a planned weight management programme of diet and exercise. Just two tablets provides the suggested daily dose of 1500mg HCA. Research indicates that HCA may support healthy metabolism, as well as help manage cravings and appetite. HCA may also support balanced mood to help with 'dieting blues'. Individual results may vary.
Dosage
Take 1-2 tablets daily 30-60 minutes before a main meal or as prescribed by your health professional. Always read the label and use as directed. If symptoms persist see your healthcare professional.
Precautions
Do not use if you have diabetes, are taking antidepressant medication or any other prescription medication without consulting your doctor. Do not use if pregnant or breastfeeding. Not suitable for children under 18.