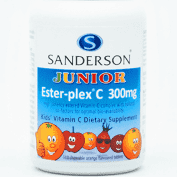 A delicious orange chewable vitamin C flavoured with real orange, especially for children. Our Junior Ester-plex™ uses maltodextrin, sucrose, stevioside and sorbitol for natural sweetening. The 300mg dose is an ideal way to help support your children's immune system and help growing young bodies. Our bodies do not make vitamin C so it has to be derived from diet, and while there is no substitute for fresh fruit and vegetables, our modern diets may often need a little help.
EACH TABLET CONTAINS
Vitamin C with metabolites as Ascorbic Acid, Sodium Ascorbate & Calcium L-Threonate
275mg
Camu Camu powder
10mg
Acerola (Malpighia punicifolia) dried fruit
5mg
Citrus Bioflavonoids
5mg
Rosehips (Rosacanina) dried fruit powder
5mg
SUPERIOR LOW ALLERGY FORMULATION:
This formulation is free from artificial sweeteners, preservatives and flavours, yeast, wheat, corn, gluten, starch, nuts, dairy, lupin, mustard, celery, soy, peanuts, sesame seeds and eggs. Non-GMO, non-irradiated and BSE/TSE free.
Dosage
Children 1-2 tablets daily or as professionally prescribed. Preferably taken with food for increased absorption. Always read the label and use as directed. If symptoms persist see your healthcare professional.
Precautions
None known; diabetics should exercise caution owing to sucrose content.